Helm Bank USA


Tap to pay with Visa Google Pay ™.
Confidence. Simplicity. And things you love about your Helm Visa® Debit or Credit Card.
 Getting started is as easy as:
Download the Google Pay app from Google Play or the App Store.
Follow the instructions to add your Helm Visa® Debit or Credit Card
Verify your card if needed. Then you're all set!
Use it today
There's a lot to love about Google Pay. Like how it lets you use your favorite Visa® card at millions of places around the world. See stores and apps that accept Google Pay
pay.google.com/about.
Get extra layers of security
When you use your phone to tap to pay in stores with an eligible Visa card enrolled in Google Pay, Visa Token Service replaces sensitive account information with a unique digital identifier called a token, which allows payments to be processed without exposing actual account details.


Pay Confidently at millions of places around the world with Visa and Google Pay.
Google Pay is a trademark of Google LLC. Payment methods shown not available in all countries or locations.

© 

2019 Visa. All Rights Reserved.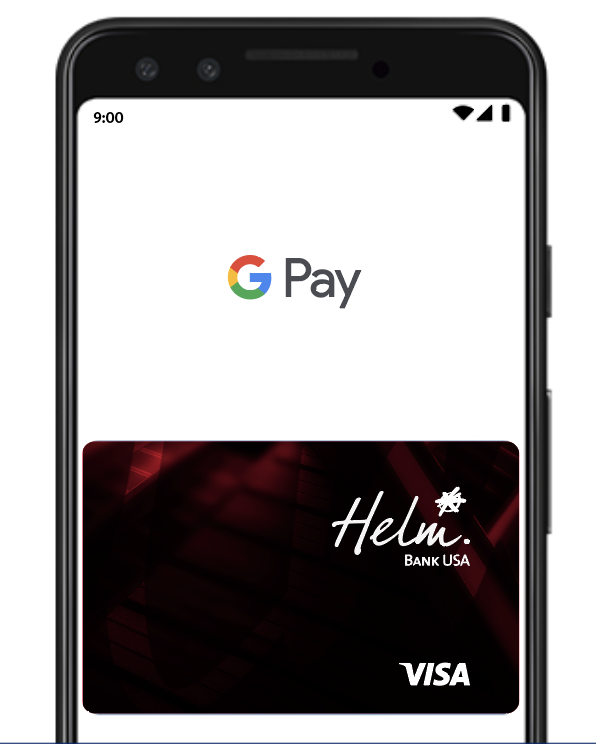 Look for the Contactless Symbol at checkout. 

Google Pay FAQ's
Which devices are compatible to Google Pay?
Please visit your digital wallet provider's website for the most current list of compatible devices.  The Google Pay website can be accessed by clicking on the link below:
Which countries and regions support Google Pay
Please visit your digital wallet provider's website for the most current list of countries and regions that support Google Pay. The Google Pay website can be accessed by clicking on the link below: