Helm Bank USA

Personal Online and Mobile Banking
Our Digital Banking Solution
Your accounts, transfers & payments in one place
Take control of your finances with HelmInOne Personal Online and Mobile Banking. Our all-in-one solution lets you manage your accounts, make transfers, and pay bills from the comfort of your own device.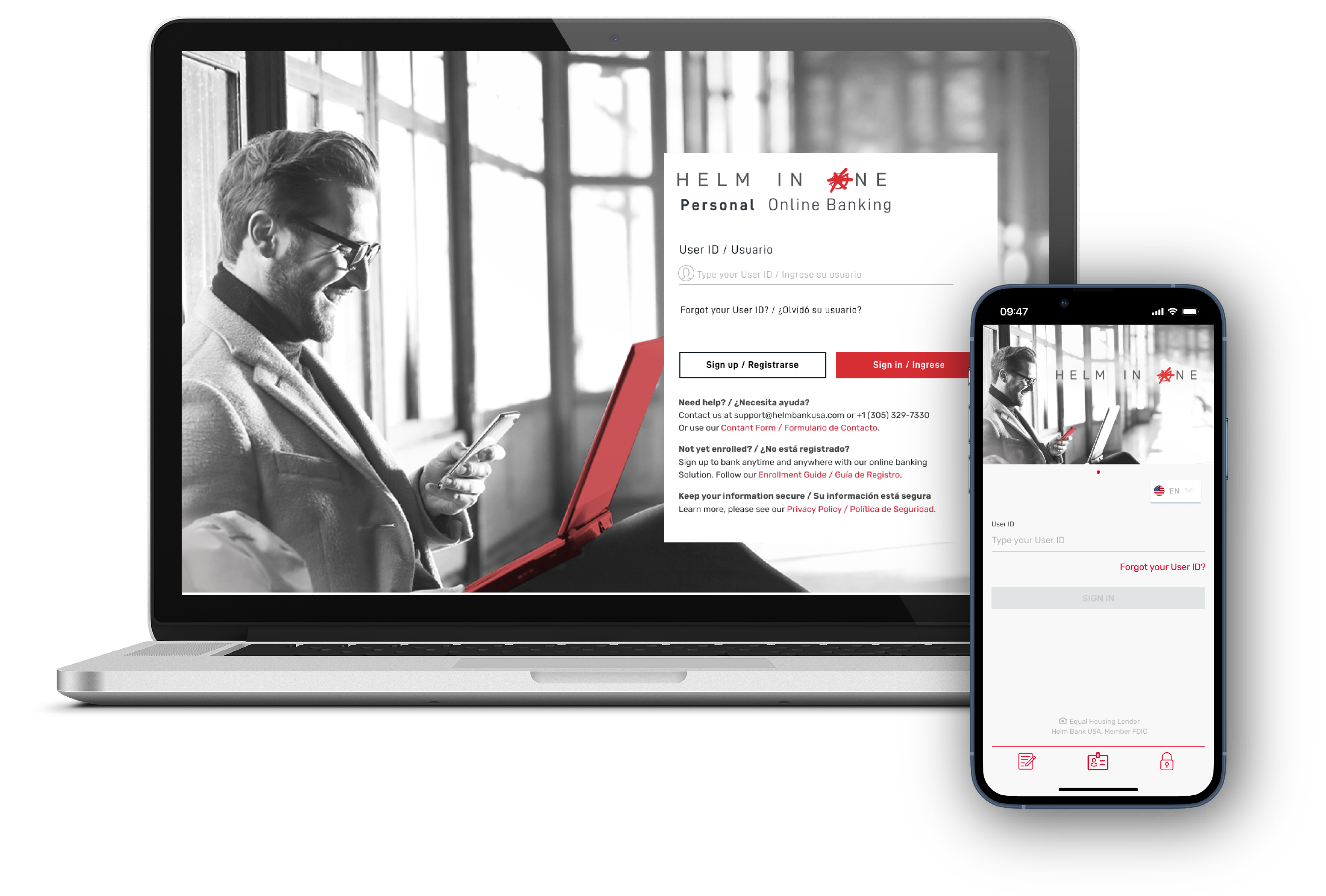 Enjoy the following features

---
Bill Payment: 
Set up one-time or recurring online payments to pay your bills.
---
Pay your Loans:
Make payments directly from your Helm Checking or Savings account.
---
Transfer Money:
Send money between your Helm accounts, make domestic and international wire transfers, send foreign currency wires, and much more.
---
Send and Receive Money with P2P: 
Send person-to-person payments to friends and family no matter where they are in the U.S. 
---
Account Dashboard:
View current balance information for your personal Helm Checking, Savings, and Loans accounts in one place.
---
Manage Templates: 
Save time and streamline your payment process. 
---
Go Paperless:
View, download and print your statements, notices and tax forms.
---
Service Request:
Easily request bank reference letters, order checkbooks, stop payments, change your contact information, with just a few clicks.

---
Biometric Authentication:

 
Set-up your Touch ID or Face ID recognition for simple and secure access on your mobile app.
---
Security Code: 
Protect your online transactions by registering a security code on your mobile device.


HelmInOne Personal Mobile Banking




Download now for convenient banking on-the-go.

 




Learn how to download our App on the
---
Not yet enrolled in
HelmInOne Personal Online Banking?
Watch our enrollment video below:
Can I download and use the HelmInOne Personal Mobile App without enrolling in Online
Banking?
No, in order to download and use the HelmInOne Personal Mobile App, you must first be enrolled in HelmInOne Personal Online Banking. This is because the HelmInOne app is an extension of our online banking platform and is designed to provide you with a seamless and secure mobile banking experience.
If you are not yet enrolled in Online Banking, you can do so by visiting our enrollment page
here
or contacting Helm Support for assistance. Once you are enrolled in Online Banking, you can download the HelmInOne app from the App Store or Google Play Store and start managing your accounts, making payments, and transferring funds right from your mobile device.