Helm Bank USA
Business Online and Mobile Banking
Streamline Your Business Banking
Securely Manage Your Business Cash Flow Anywhere, Anytime

Our HelmInOne Business Online Banking platform provides a secure and convenient solution for managing your business cash flow, enabling you to oversee your account information, reconciliation, and other banking needs all from one trusted source, whether you're in the office or on the go.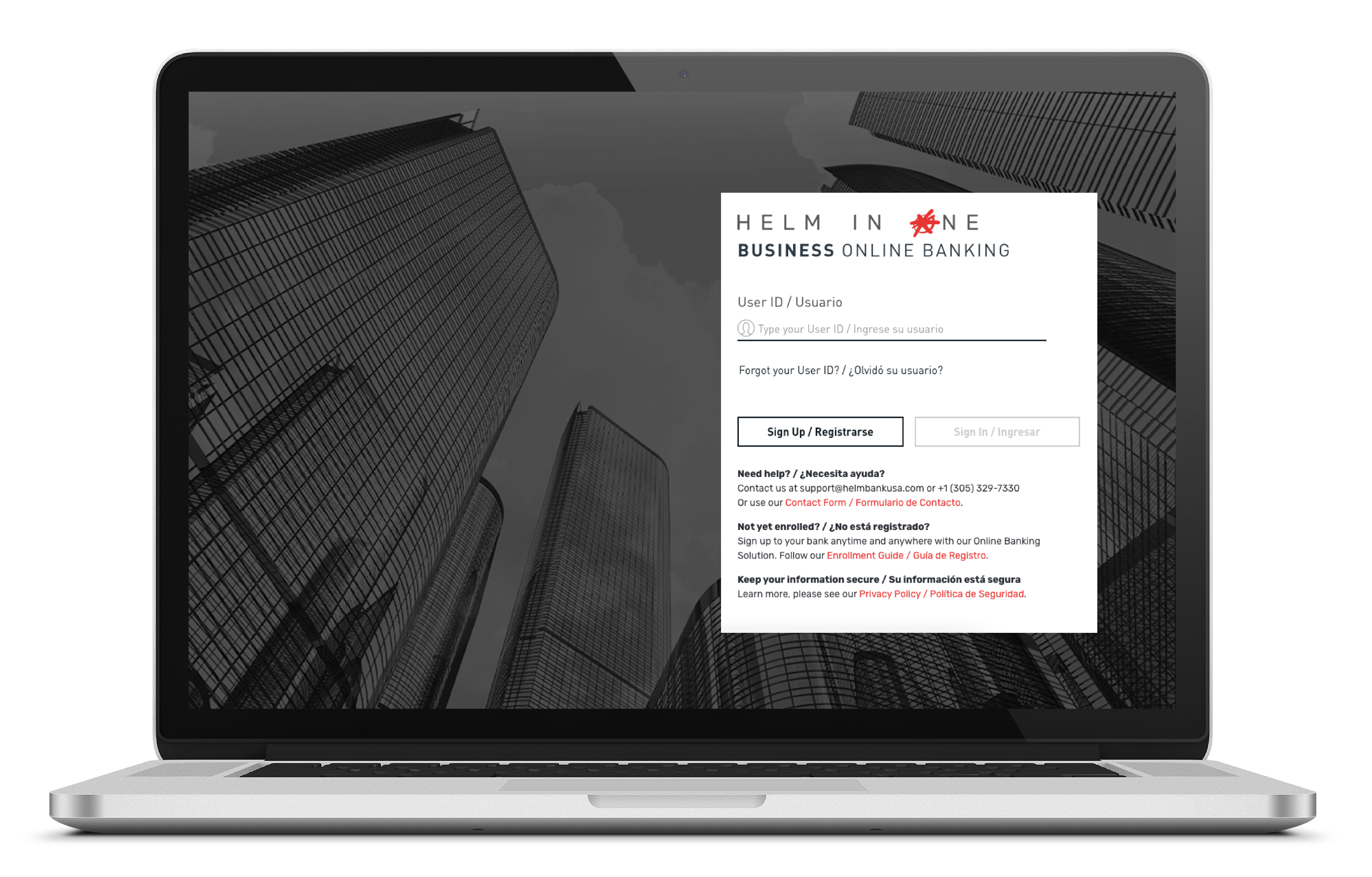 Payments & Transfer
Make payments directly from your Helm Checking or Savings account.
---
Cash Management:
Set up one-time or recurring transfers.
---
Transfer Money:
Send money between your Helm accounts, make domestic and international wire transfers, send foreign currency wires, and much more.
---
Batch Management:  Customize batch payment files for easy approval by authorized users.
---
Approval Workflows:  Strengthen your control over monetary transactions with HelmInOne's approval workflow.
---
Access Wire Confirmations: Save time and eliminate the need to contact customer service for confirmation requests.


Manage Your Accounts
View current balance information for your Helm Business Checking, Savings, and Loans in one place.
Save time with detailed listing of account activity in several transmission formats (i.e. MT940 and Multi-Cash).
---
Template Management: 
Easily pay frequent beneficiaries, vendors, and suppliers.
---
Go Paperless: 
View, download and print your statements, notices and tax forms.

---
Service Request:
Easily request bank reference letters, order checkbooks, stop payments, change your contact information, with just a few clicks.

Security
---
User Administration: 
Designate one or more SuperUsers to manage the security and controls over the creation, deletion and maintenance of each company user.
Audit reports allows SuperUsers to review actions performed by users within their company.
---
Not yet enrolled in
HelmInOne Business Online Banking?
 Watch our enrollment video below:
Coming Soon
HelmInOne Business Mobile App