Helm Bank USA

Digital Wallet
Available for Helm Debit Cards and 
Helm Gold, Platinum & Business Credit Cards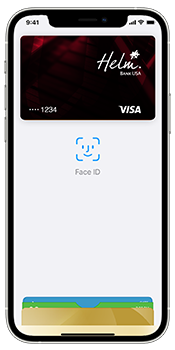 Helm Bank USA now offers convenient and secure credit and debit card payment  through
Apple Pay®, G
oo
gle Pay™ and S
amsung Pay™.   With Digital Wallet, you can now make in-app or in-store mobile pu
rchases instead of
using y
our
physical card.  It is a
s simple as touching your phone to the payment terminal to make your next purchase.
Accepted at merchants where you see both of these icons:

**Important: These functionalities may vary depending on the availability in each country.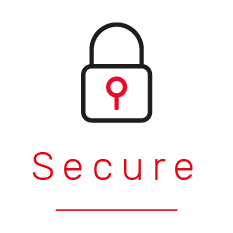 Each transaction uses a unique token to securely protect your payment information.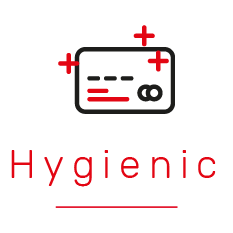 Cleaner than using your physical card. Simply look for the Contactless symbol when paying, open the wallet and hold your device close to the payment terminal.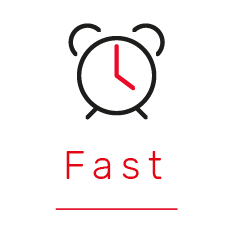 Payments within seconds, plus keep track of your expenses with a digital record.
Learn more about your Digital Wallet
What are Digital Wallets?
Much like a physical wallet, a digital wallet is a single place to store your credit and debit cards. The main difference is that a digital wallet lives on your smart device in the form of an app. Simply add a card to the app and you can use your device to make payments online, in-app and in-person.
Where can I use my Digital Wallet?
Once you have downloaded your card into your digital wallet, you can use it in many ways.
1. Participating merchants - Use your digital wallet where you see the contactless symbol, as well as hold your mobile device over the terminal symbol.
2. Online - When shopping online, some websites allow you to select your digital wallet as your payment option instead of having to enter your credit or debit card information each time you make a purchase.
3. In Apps— Use your digital wallet as a payment method.
What Digital Wallets does Helm Bank USA support?
Helm Bank USA 
currently supports Apple Pay®, Google Pay™ and Samsung Pay™ for in-app, online and in-store purchases.
Which Helm Bank USA Debit and Credit Card(s) are eligible to be loaded into my Digital Wallet?
Eligible Helm Bank USA Visa cards include:
Personal - Helm Debit Card
Personal - Helm Gold Credit Card
Personal - Helm Platinum Credit Card
Business - Helm Business Credit Card
Can I have more than one Helm Bank USA Debit or Credit Card(s) in my Digital Wallet?
Yes.  There is not a limit on the number of Helm Debit and Credit Card(s) that can be added into a Digital Wallet.  However, there may be a limit to the number of cards that your digital wallet allows set by the wallet provider.  
How do Digital Wallets keep my payment information secure?
The Digital Wallet providers do not store or have access to your full account number as they are only provided a unique one-time passcode, known as a token, to provide to the merchant to complete the transaction. This reduces the risk of your payment data being stored or compromised because only the token is passed on and your payment card information is never shared with the merchant.
Additionally, you will be required to authenticate yourself before the transaction can be processed.  Depending on your device type, the authentication step may be completed using your fingerprint, facial recognition, passcode or PIN.   The last four digits of your card number is displayed on the card image within the wallet for the purpose of helping you manage your card(s).  
What happens when I get a new phone or replace an old device?  
Be sure to delete your cards from your Wallet before exchanging or selling your old phone or device. You will then need to register your cards again the in the desired wallet. If your device has not been backed up or your information cannot be saved from your prior device, you will need to complete the registration process for each card again.
How do I make sure my Digital Wallet is locked when I'm not using my phone?
Digital Wallets are automatically locked when your device is locked. You will also need to provide a PIN, Fingerprint/Touch ID or Face ID to authorize a purchase.
What if my device is lost or stolen?
If your device is lost or stolen, please contact Helm Support at +1 (305) 329-7330, Monday through Friday from 8:30 a.m. to 6:00 p.m. (EST) so we can temporarily block your payment cards.